Torque Tool Hire
We carry a comprehensive range of Torque Tools available for hire. These include but are not limited to, Battery Torque Multipliers, Hydraulic Torque Wrenches, Electric Torque Multipliers, Air Torque Multipliers, Hand Torque Multipliers, and Torque Wrenches.  We also hire Hydraulic Tensioners, Pumps, Enerpac Hydraulics, Torque Transducers, and Impact Sockets/Accessories.
We pride ourselves on being 100% customer focused and we are much more than your average Torque Tool Hire Company!
We have experienced technicians that can provide application advice whether that be over the phone or during a site visit. We also offer on site, safe setup, and operation training, inc. 24/7 phone support should you need it. Same day and next day delivery options are available and unlike others, we won't charge you for a minimum hire period.  Our equipment is kept in-house for immediate despatch / collection. We carry out all our hire tool services and calibration's in-house and each tool comes with a valid calibration certificate for accurate recording and traceability.
We can also provide an experienced, certified team for onsite bolting. Our engineers have been carrying out shutdown maintenance and repairs across a range of industries for over 30 years for customers including global 500 companies.
To book a hire, to request a quote, or for any further information, please call your nearest Applied Torque office, email sales@appliedtorque.co.uk or use our 24/7 contact us page via the website or live chat.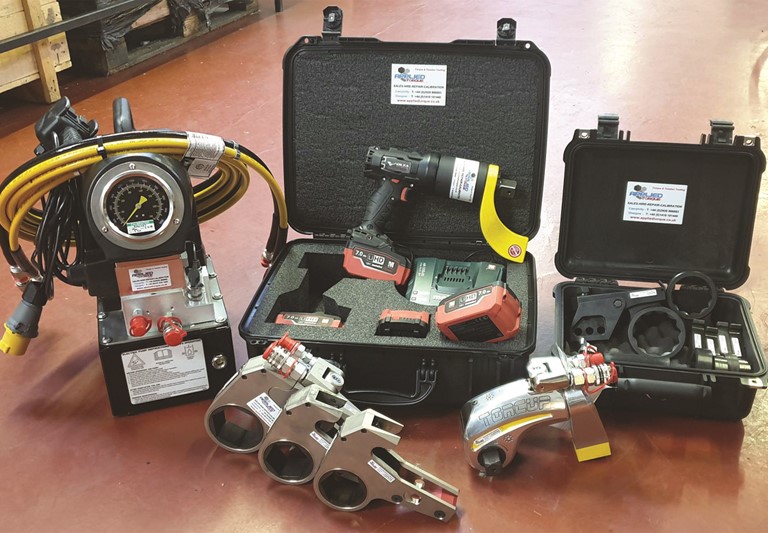 Our Hire range includes but is not limited to.
Battery Torque Multipliers
Hydraulic Square Drive Torque Wrenches
Hydraulic Low-Profile Wrenches and Links
Electric Torque Multipliers
Air Torque Multipliers
Hand Torque Multipliers
Manual Torque Wrenches
Battery Torque Wrench Pumps
Electric Torque Wrench Pumps
Air Torque Wrench Pumps
Bolt Tensioners
Bolt Tensioner Pumps
Hoses
Cylinders, Jacks and Pumps
Torque Testing Equipment
Impact Sockets and Accessories
Get in touch to book a hire, request a quote or to speak to a member of staff.